HEALITE II utilizes Low Level Light Therapy, where light energy promotes metabolic activity in cells in cellular tissue.It promotes relaxation of skin spasms, inflammatory sites, muscle pain, and wound healing.
Photo Sequencing Technology(PST)
After pre-irradiation of low output 590 nm wavelength, the infrared wavelength of 830 nm is transmitted deep into the skin.
Optic Lens Array Technology(OLAT)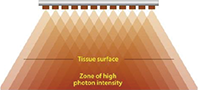 It overlaps the light emitted by precisely arranged LEDs to form areas with high photon intensity and transmit light energy to the deep skin.
hands-free one-touch
A simple way to operate
No restrictions on treatment site
Any area you want to be treated is possible.